The pro staff at Wade's Eastside have done a great job taking to ASI's "customer oriented" approach, and we thought these moments from the Dec. 5 match deserved special mention.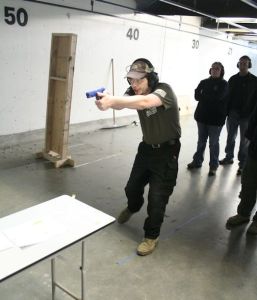 At right you'll see one of Wade's Eastside's range officers demonstrating "Alley Madness" for an incoming group of shooters. The inert "blue gun" he brought lets everyone relax and stand where ever they like  in order to hear/see what will be expected of them. Unlike a "real gun" shooters could quickly pick up the "blue gun" and use it as a prop to walk through their questions — now that's helpful!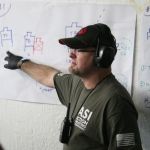 At left you'll see another Wade's innovation — the poster-size stage diagram. Someone at Wade's took the time to draw out the stages on that bay, super-size, allowing that bay's Chief Range Officer (Greg) to point out different aspects of the stages easily. The particular bay Greg was working in tends to be noisy, so the extra-large art helped cut down on the number of questions in an area where it's sometimes difficult to make one's self understood. Good idea!