Written by Jackie Russo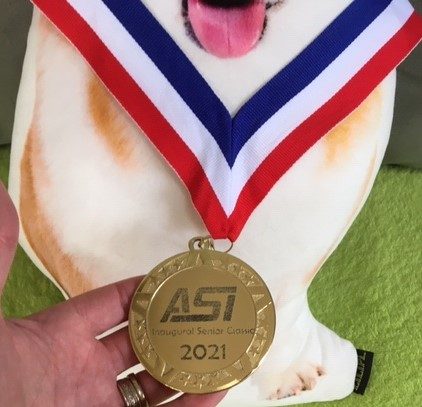 Paul Bunyan Rifle and Sportsman's Club has been the home range for our local Action Shooting International since 2019. Offering a "Shoot and Move Sport for Everyone" inviting both new and experienced shooters to this shooting sport. Since arriving, our chapter has developed a loyal following and welcomed new enthusiasts.
Recognizing the increase in popularity we figured it was time to host a 'specialty match'; a match with 7 new stages with fun target arrays and props. The 2021 The Senior Classic was held on October 2, it was opened to all, but special recognition was awarded to those registered in the senior category of 50 years and older.
We welcomed 67 shooters, more than half registered as seniors. We had 11 attend New Shooter Orientation – these both set new attendance records. Additionally, 8 Ladies, 18 veterans and half- a dozen retired or active police officers signed-in for opportunities to win in their categories.
There were a variety of stages where the shooter was challenged to shoot from the seated position in a boat or a stage with one handed shooting. A staff favorite was placing a medal over the head of 'Annie' (a stage requirement), moving to a tabled gun and shooting an array of targets from fault lines. Adding bit of whimsy for the show and some strategy for efficiency.
The match title sponsor was Joey Russo's Triad Firearms Training and the custom golden, medallions were created by Brent Craven of River's Edge Arms specifically for the match. In all 15 medallions were awarded: top 5 senior, most accurate in CO and iron sights; both gents and ladies were recognized in their categories; as well as high military/veteran and cops, both retired / active.
We do need to recognize the many hands that makes this – and every match- possible. From building the targets, to setting the stages up and RO'ing a squad – a big THANK YOU!
Judging from the ensuing enthusiasm for this match – there's high probability it will return in 2022. We are creating our calendar for the next year. Standby in spring when we will being promoting it here.
The next scheduled ASI match is November 6th – Saturday. It will be our Toys for Tots Toy Drive – a charity long supported here. Please bring a new, unwrapped toy instead of the range fee; we also accept cash donations, too. Pre-registration on PracticeScore is appreciated. Find ASI at Paul Bunyan under "Matches" .